Just outside of Las Vegas, Henderson, Nevada, provides a great balance of proximity to the energy of Vegas as well as the peaceful trails of neighboring canyons and conservation areas. With the best of both worlds, it's no wonder Henderson has been growing in popularity, but many who are interested in moving there may wonder if 2023 is the year to do so. With the regional and national markets changing so much since the onset of the pandemic, how does the Henderson, NV, real estate market match up? In this guide, we'll walk you through everything you need to know about the current market in Henderson and what you can expect in 2023.
Demand has stayed moderate
Homes and condos for sale in Henderson, NV, have stayed in modest demand, though the number of buyers has not yet eclipsed the number of homes for sale on the market. Demand plays a key role in how homes are priced, as higher demand can drive up competition and allow sellers to list their homes for more. In Henderson, homes can still sell quickly, but demand is keeping the market less competitive than it is in other parts of the country. This can be helpful for buyers hoping to relocate to Henderson next year, as fewer buyers to compete with means a higher likelihood of any one buyer's offer being accepted.
Inventory has increased
The number of condos and single-family homes for sale in Henderson, NV, has
increased
in the past year. Newer condominiums have come onto the market in larger numbers, and overall, the number of homes available in Henderson is substantial. Like demand, inventory can have a strong impact on home pricing, especially when there are more homes on the market than there are buyers. When supply and demand outweigh each other, prices will follow suit. If higher inventory and lower demand, which we've seen in Henderson, continue to diverge, prices could take a dip in 2023.
Prices have depreciated
With moderate demand and higher inventory came a slight downtick in pricing in 2022, though that's expected to change in the coming year. Pricing depends on a variety of factors, including demand and inventory, but also extends to factors like interest rates and inflation. Though these can all change year over year, seasonal shifts happen in local markets, too. Depending on the time of year, demand could be higher and, thus, prices as well. For single-family Henderson homes, the median list price is currently $539,000, which is down from $604,000 as of January 2022. Properties are currently selling for a median price of
$499,500
.

Both sellers and buyers will want to work with a real estate team that can help them strategize about the best time to list or start looking.
Interest rates continue to rise
The start of the pandemic brought record-low interest rates that many buyers were quick to take advantage of. As rates have started to rise, however, the cost of borrowing has increased, and demand has slowed in many areas.
Those interested in investing in condos or townhomes in Henderson, NV, can expect interest rates closer to
6.3% or higher
for a 30-year, fixed-rate mortgage. With some rates climbing as high as 8%, it's important for buyers to do their research and find a lender who's willing to offer a lower rate. Sellers should be aware of how rising interest rates could deter buyers in Henderson and recognize that, if rates continue to rise and put buyers off, this could have an impact on how long their home remains on the market.
Sales are slowing
The mix of moderate demand, higher inventory, and rising interest rates is culminating in slower sales. Though some properties are still selling quickly, the overall number of sales year to year is decreasing. Again, this is a modest change, but still one worth noting. With fewer homes selling month to month, sellers would be wise to work with their agents to help their homes stand out.
What buyers can expect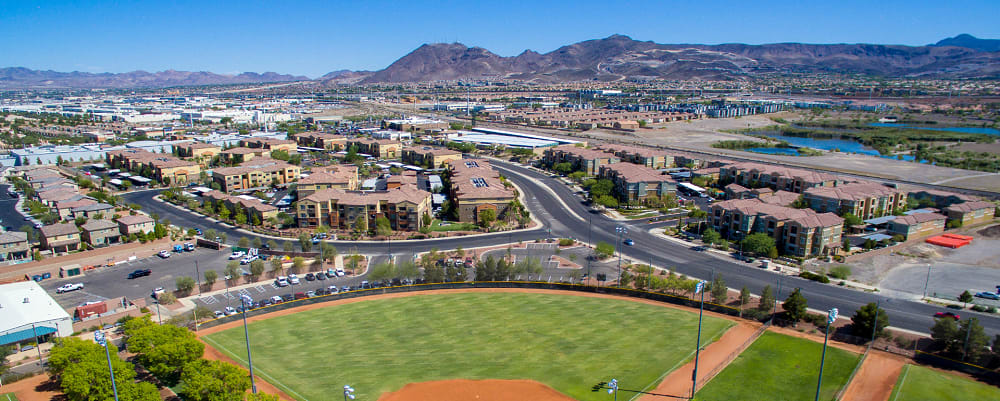 Buyers can expect more of the same in 2023, though prices may appreciate modestly. Overall, buyers have more of the upper hand in the Henderson market and could see 2023 as an opportunity to make the most of lower home prices. It's important, when inventory is high, to have a strong sense of what home styles and features a buyer is looking for. From there, the real estate team will be able to sift through the available properties and find ones that check off all the boxes.
What sellers can expect
Many homes for sale in Henderson are selling for at or below the asking price, with a small percentage closing higher. Sellers will want to make sure they price their homes as accurately as possible. Real estate teams can help by putting together a comparative market analysis, and homeowners can have their homes appraised as well.
With higher inventory than demand, sellers will also want to do what they can to boost the value of their home prior to listing. Renovations and repairs can be a great way to add value, whether a homeowner opts for a full kitchen remodel or simple changes like touching up paint and updating light fixtures. Ultimately, sellers can expect that, although prices may increase in 2023 as demand grows, the Henderson market will likely bring more of what it did in 2022.
If you're considering
buying
or selling properties in Henderson, NV, next year, partner with a top real estate team known for helping clients get results.
MDB Realty
is an award-winning brokerage specializing in luxury homes along with high-rise developments and commercial properties. Equipped to help buyers and sellers meet their goals, MDB Realty works tirelessly to ensure that clients are completely satisfied with their investments. So when you're ready to take the first step toward buying or selling your home, trust the process to MDB Realty.

*Header photo courtesy of Shutterstock